GPCR Functional Cell-based Assays
In GPCR drug discovery, high throughput screening (HTS) is the essential tool to find drug candidates from the compound libraries. Historically, ligand-binding assays were used to identify compounds that targeted GPCRs. Current GPCR drug discovery efforts have moved toward the utilization of functional cell-based assays for HTS.
Calcium mobilization assay is the most widely used functional assay for implementation of GPCR HTS. The assay is applicable for Gαq-coupled GPCRs whose signaling pathway induces the calcium release from its intracellular stores. However, this assay can't be applied to Gαi/Gαs-coupled GPCRs which do not involve intracellular calcium release.
To address this problem, GenScript coexpressed Gαi/Gαs-coupled GPCRs with chimeric or promiscuous Gα proteins. The coexpression allows us to develop a high throughput screening through monitoring the intracellular calcium mobilization. In addition, GenScript offers cAMP and Luc reporter gene assays as alternative solutions.
Assay Setup Showcases:
Receptor: NK3
Cell Line: CHO-K1/NK3
Assay Mode: Agonist
Measured Product: Ca2+
Assay Method: Calcium assay (Calcium-4)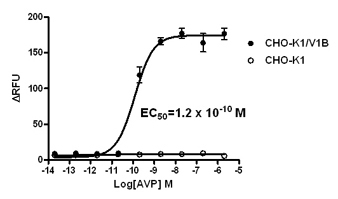 Receptor: V1B
Cell Line: CHO-K1/V1B
Assay Mode: Agonist
Measured Product: Ca2+
Assay Method: Calcium assay (Calcium-4)
High Throughput Screening Facility:
GenScript has established a state-of-the-art high throughput screening facility with FLIPRTETRA?, Biomek® NXP, and data management database. The facility provides reliable and flexible high throughput screening solution for identifying early leads in the GPCR and ion channel drug discovery process. Based on the facility, GenScript has gained ample expertise on various HTS solutions: GPCR calcium dye for calcium flux, membrane potential dye for potassium and sodium channel, and YFP for chloride channel.
Moreover, the two-addition FLIPR assay format allows GenScript to detect both agonist and antagonist in one well for kinetic assays, such as calcium mobilization assay. Subsequently, doubled throughput and reduced screening cost are expected comparing with end-point assay, such as HTRF® cAMP assay.
Ready GPCR Functional Cell-based Assays:
GenScript is continuously developing more GPCR functional assays, utilizing various assay techniques such as FLIPR-based calcium flux/mobilization assay (Ca2+), HTRF? cAMP assay (cAMP), IP-One HTRF? Assay (IP1) and Luc reporter gene assay (Luc), to cater the different needs of our customers.
Please feel free to contact us for more technical supports.