sgRNA発現&遺伝子編集のためのCRISPR/Cas9プラスミド
お問合せ
CRISPR-Cas9システムによるゲノム編集は、遺伝子ノックイン/アウトや正確かつ明確な塩基改変、遺伝子組換えを始めとする様々アプリケーションに急速に利用されています。 CRISPR-Cas9は、そのデザインやカスタム化が容易であり、または比較的安価であることから、TALENやジンクフィンガーヌクレアーゼなどの他の遺伝子編集技術よりも優位です。
Genscriptは、MIT&Harvardに所属しているBroad Instituteより、CRISPR技術をライセンスされています。当社の製品には、最新のCRISPRプラスミドと、CRISPR研究の先駆者であるFeng Zhang研究室によって開発されたデータベースが含まれています。 Broad Instituteより検証したプラスミドは、CRISPR/Cas9を発現するのによくテストされたプラットフォームであり、RNAベースのプラットフォームにおける不安定性を低減しています。
GenScript CRISPRプラスミドリポジトリ
GenScriptは、Broad Instituteより事前に検証されたガイドRNA(gRNA)配列を含む2万件以上のlentiCRISPRv2プラスミドコレクションを所持しています。
| Product | Vector | Selection |   |
| --- | --- | --- | --- |
| GenCRISPR™ Plasmid Collection | Lentiviral | Amp, Puro | お問合せ |
Enhanced CRISPR/SpCas9プラスミド
Enhanced SpCas9(K848A / K1003A / R1060A)とも呼ばれるSpCas9(eSpCas9)は、Broad InstituteのFeng Zhang研究室( Slaymaker et al. 2016 )により、標的特異性を改善するために設計されています。 eSpCas9はゲノム編集効率を維持しながら、オフターゲット効果を10分の1以下に低減することができます。
続き>>
Cas9ゲノム編集はDNA二本鎖の分離に依存しています。 sgRNAと標的化されていないDNA配列とのミスマッチは、非特異的結合および切断を引き起こします。 ゲノム編集の特異性を改善するため、突然変異K848A、K1003A、およびR1060Aを有するSpCas9が開発されました。 SpCas9の非標的鎖溝内に残基の持つ荷電を中和することで、非標的結合を弱め、より厳密な塩基対形成を必要とするオンターゲット結合を促進します。
Product
Vector
Selection
 
eSpCas9 Plasmids
Plasmid
Lentiviral
Puro or GFP
お問合せ
SpCas9プラスミド
Cas9エンドヌクレアーゼは遺伝子編集研究の標準です。ガイドRNA(sgRNA)配列と結合し、これらの酵素はゲノム中に部位特異的二本鎖切断(DSB)を作ります。 続き>>
SpCas9/sgRNAsの発現:オールインワンベクターでの相互発現
             デュアルベクターで個別発現
最適な標的SpCas9 PAM配列:NGG
NGA配列に対する標的親和性も含有
Product
Vector
Selection
 
SpCas9 Plasmids
Plasmid
Lentiviral
AAV
Amp
Amp, Puro
Amp, Neo
Amp, GFP
お問合せ
SpCas9 Nickase プラスミド
SpCas9 nickase (Cas9n D10A)は、DSBと対照的に、エンドヌクレアーゼより一本鎖ニックの形成することを可能にする突然変異を有しています。 2本の向かい合うgRNA配列とSpCas9 nickaseとペアリングすることで、望ましくないindelsの形成を防ぐ遺伝子編集の効率的な方法です。
Product
Vector
Selection
 
SpCas9 Nickase Plasmids
Plasmid
Lentiviral
Amp
Amp, Puro
Amp, GFP
お問合せ
SaCas9プラスミド
Staphylococcus aureus Cas9 オーソログ(SaCas9)は、アデノ随伴ウイルス(AAV)に適用するエンドヌクレアーゼです。 SaCas9はSpCas9より約1kb短く、AAVパッケージングの柔軟性を提供します。 AAVベクターのより低い免疫原性は、SaCas9をインビボで用いる実験に適しています。続き>>
最適なオンターゲットSaCas9 PAM配列:NNGRRT
NNGRRNに対して標的とする親和性が重要
| Product | Vector | Selection |   |
| --- | --- | --- | --- |
| SpCas9 Plasmids | AVV | Amp | お問合せ |
転写活性化(SAM)プラスミド
CRISPR / Cas9 Synergistic Activation Mediator(SAM)システムは、下流標的の転写活性化を可能にするように設計されています。 SAMシステムは、転写を駆動する触媒的にdead Cas9(dCas9)複合体上に組み立てられた3つの異なる活性化因子、VP64、P65、およびHSF1を利用します。続き>>
SAM複合体の構成:MS2RNAアプタマー、触媒に不活性なdCas9-VP64融合タンパク質、およびMS2-P65-HSF1アクチ ベーター融合タンパク質を組み込んだgRNA
SAMシステムは、コードエレメントおよび非コードエレメントの両方の活性化が可能です。
Broad Instituteで検証済みのSAM gRNA配列を検索するには、ガイドRNAデータベースをご覧ください。.
Product
Vector
Selection
SAM gRNA Plasmids
Plasmid
Lentiviral
Amp
Amp, Zeo
お問合せ
SAM dCas9-VP64 Plasmids
Lentiviral
Amp, Blast
Amp, GFP
お問合せ
SAM MS2-P65-HSF1 Plasmids
Lentiviral
Amp, GFP
Amp, Hygro
お問合せ
Broad Instituteプラスミドコレクション
Broad Instituteプラスミドは、Harvard&MITに所属しているBroad Instituteより作製しています。 これらのプラスミドにはカスタマイズされたsgRNA配列の代わりに17bp〜1.8kbの発現可能なリンカーが含まれています。これは研究室で修飾することができます
SpCas9 Vectors
Cas9 endonucleases derived from the type II CRISPR systems in S. pyogenes (SpCas9) were the first Cas9 enzymes developed for mammalian genome editing. When combined with guide RNA (gRNA) sequences, these enzymes create site-specific double strand breaks (DSBs) in the genome. The CRISPR/Cas9 system accelerated genome editing for its ease of use, specificity, and high efficiency. GenScript is pleased to offer Broad Institute-validated WT SpCas9 constructs for gene editing in mammalian cells. Constructs are available either as all-in-one or dual vector systems, and can be used for non-viral, lenti-viral or adeno-associated virus (AAV) transfection. The lenti-vectors are compatible with 2nd and 3rd generation lentiviral packaging plasmids.
SpCas9 Nickase Vectors
While the CRISPR/Cas9 technology is still more specific when compared to other popular gene editing strategies, off-targeting concerns are still a reality. In an effort to improve specificity, the endonuclease activity of Cas9 was modified. WT Cas9 has two catalytic domains, RuvC and HNH, and mutations to catalytic residues within these domains (specifically, D10A in RuvC and H840A in HNH) cause Cas9 to create single strand nicks as opposed to double strand breaks (Ran et al, 2013). This Cas9 enzyme with nickase activity, or Cas9n, is guided by guide RNAs (gRNA) to opposite sides of the target genomic DNA. Cells will preferentially repair these SSBs by HDR rather than NHEJ. By proceeding through an HDR mechanism, the frequency of unwanted indel mutations from off-target DSBs is minimized. GenScript is pleased to offer Broad-validated nickase vectors for gene editing in mammalian cells types.

SaCas9 Vectors
The Cas9 orthologue derived from Staphylococcus aureus, or SaCas9, has similar efficiency to SpCas9; however, SaCas9 is approximately 1kb shorter. The primary advantage of SaCas9 is adeno-associated virus (AAV) packaging: the cargo size of AAV is approximately 4.5kb, and consequently packaging SpCas9 into this vector can be challenging (Ran et al, 2015). The relatively smaller size of SaCas9 makes CRISPR gene editing with AAV vectors possible. Considering the lower immunogenicity of these constructs, SaCas9 is therefore more suited for in vivo editing applications, such as for therapeutics.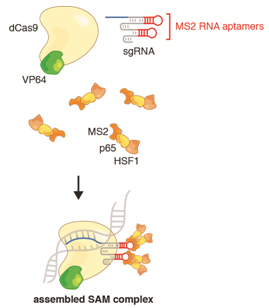 Transcription Activation (SAM) Vectors
CRISPR/Cas9 Synergistic Activation Mediator (SAM) is a protein complex engineered to enable robust transcriptional activation of endogenous genes – either a single gene at a time, or up to 10 genes simultaneously in the same cell. SAM takes advantage of the specificity and ease of reprogramming of Cas9 nucleases, which are targeted to a specific locus in the endogenous genome by guide RNA. Through a license with the Broad Institute*, GenScript offers validated SAM gRNA sequences to target any coding region in the human genome, as well as complimentary design of SAM gRNA for any other species. SAM guide RNA sequences are custom-synthesized and cloned into efficient lentiviral vectors, and accompanied by the Cas9-VP64 and MS2-P65-HSF1 components that form the three-part SAM complex.
The SAM complex consists of three components
A nucleolytically inactive Cas9-VP64 fusion: dCas9 is used to ensure that no strand breaks are introduced into endogenous genome; VP64 is a transcription activation domain that acts synergistically with p65 and HSF1 to enhance transcription
An sgRNA incorporating two MS2 RNA aptamers at the tetraloop and stem-loop: the sgRNA should be designed to target the first 200 bp upstream of the transcription start site in order to target the SAM complex for ideal transcription activation. While sgRNA normally binds to Cas9, the MS2 RNA aptamers are required to allow the third member of the SAM complex to bind to the Cas9-sgRNA complex.
The MS2-P65-HSF1 activation helper protein: this contains two transcription activation domains, P65 and HSF1, that synergize with VP64 to robustly activate transcription of downstream coding regions. The MS2 domain allows his helper protein to bind to the sgRNA-dCas9 complex.
CRISPR Handbooks and Protocols
CRISPR Plasmid Questions & Answers
Deliverables:

4μg of research grade plasmid DNA
Electronic vector map

QC:

Sequence chromatograms encompassing your custom insert
Quality assurance certificate

A minimum of 3 gRNA sequences are recommended to ensure knock-out and experimental accuracy. Independently obtained knock-out mutants provide redundancy to safeguard against any hidden off-target effects.

Designing your gRNA sequences involves 4 steps:

Determining the target gene locus
Finding suitable sequences for Cas9 targeting
Checking the potential for off-target binding
Selecting gRNAs sequences that lie within your preferred binding region.

GenScript's gRNA database and online design tool will take out much of the guesswork when you're choosing gRNA sequences, by providing off-target scores and chromosomal location.

All-in-one vector systems have two main advantages:

Cells only need to be transfected once.
gRNA/Cas9 expression is driven in an ideal 1:1 ratio.

Dual vectors, where Cas9 and gRNA are expressed independently on separate constructs, are more suitable if you plan to express multiple gRNAs for multiplex targeting.  For these applications, Cas9 should first be stably expressed in the cell line, after which the cells can be transfected with different gRNA vectors to generate a cell pool.

Vector selection for CRISPR gene editing should consider both application and cell type.

In most easy-to-transfect cell lines non- viral vectors can work well.  
Lentiviral transfection is typically necessary in cells with low transient transfection efficiency, such as primary cell cultures or hard-to-transfect cell lines. 
AAV vectors have low immunogenicity and are preferred for in vivo gene delivery. Since the cargo limit of AAV vectors is generally smaller than other vectors (<5 kb), packaging the SpCas9 gene into these vectors can be challenging.  The Staphylococcus aureus Cas9 orthologue (SaCas9) is smaller than SpCas9 and is the preferred Cas9 variant for AAV vectors.

SpCas9 nickase vectors are advantageous to use in experiments which are more sensitive to off-target editing. However, it is important to remember, that two gRNAs will need to be designed to target both forward and reverse strands. These gRNAs must be oriented so that PAM sites are distal to each other. gRNA sequences should be offset with windows of up to 100bp between them.

For robust SAM transcription activation, gRNAs must target the first 200bp upstream of the transcription start site (TSS). To decrease the degree of transcription activation, design gRNAs that target the SAM complex to greater distances upstream of the TSS. To repress transcription, design gRNAs that target SAM to +50 relative to the TSS, which will effectively block the TSS.

GenScript maintains a genome-wide SAM gRNA database which contains 6 SAM gRNAs designed to activate each coding region of the human genome.  For other species, our scientists offer complimentary SAM gRNA design help.
CRISPR Vector Specifications
*Legal Statement of GenCRISPR™ Services and Products (updated on July 28, 2015):
GenCRISPR™ services and products are covered under US 8,697,359, US 8,771,945, US 8,795,965, US 8,865,406, US 8,871,445, US 8,889,356, US 8,889,418, US 8,895,308, US 8,906,616 and foreign equivalents and licensed from Broad Institute, Inc. Cambridge, Massachusetts.
The products and the reagents generated from these services shall be used as tools for research purposes, and shall exclude (a) any human or clinical use, including, without limitation, any administration into humans or any diagnostic or prognostic use, (b) any human germline modification, including modifying the DNA of human embryos or human reproductive cells, (c) any in vivo veterinary or livestock use, or (d) the manufacture, distribution, importation, exportation, transportation, sale, offer for sale, marketing, promotion or other exploitation or use of, or as, a testing service, therapeutic or diagnostic for humans or animals.
The purchase of the GenCRISPR™ Services and Products coveys to the purchaser the limited, non-transferable right to use the products purchased and the reagents generated from GenCRISPR™ services and any related material solely for Research Purposes only, not for any Commercial Purposes.
お見積