Plasmid DNA Preparation
Are uncontrolled or unexplained failures in your plasmid prep causing reproducibility issues and delays in your experiments?
GenScript's Industrial Grade Plasmid DNA can help your experiments achieve highly efficient cell transfection, helping to improve experimental outcomes in research areas such as protein expression, antibody production, and other research projects.
Advantages of Industrial Grade Plasmids
High quality: ≤ 0.01 EU/µg endotoxin level and ≥ 90% supercoil content
Quality-assured: stringent QA throughout the process and QC at the end
Flexible: microgram to gram quantity production
Fast turnaround time: starting from 3 days
Tight deadlines: >98% on-time delivery
QC Specifications
 
Specification
Analytical Method
Appearance
Clear, no visible particles
Visual inspection
A260/280
1.8-2.0
Nanodrop UV absorption
Concentration
Default 1 mg/ml; Specific concentration provided upon request
UV absorption
Supercoil
≥ 90% supercoiled1
Densitometry upon agarose gel electrophoresis
HPLC quantitative assay New
Restriction Analysis
Conforming to reference pattern
Enzyme digestion and electrophoresis
Residual RNA
Not visible
Visual inspection upon electrophoresis
Genomic DNA
Not visible
Visual inspection upon electrophoresis
Endotoxin level What's
≤ 0.01 EU/µg2
Limulus Amebocyte Lysate (LAL) assay
Quantitative LAL assay, Optional New!
Industrial-Grade

Transfection and co-transfection (in mammalian cells)
Virus packaging
Protein manufacturing (in mammalian cells)
Antibody production
Gene, vaccine, and gene therapy studies
Animal studies
Achieve Better Experimental Results with GenScript's Plasmid Prep Services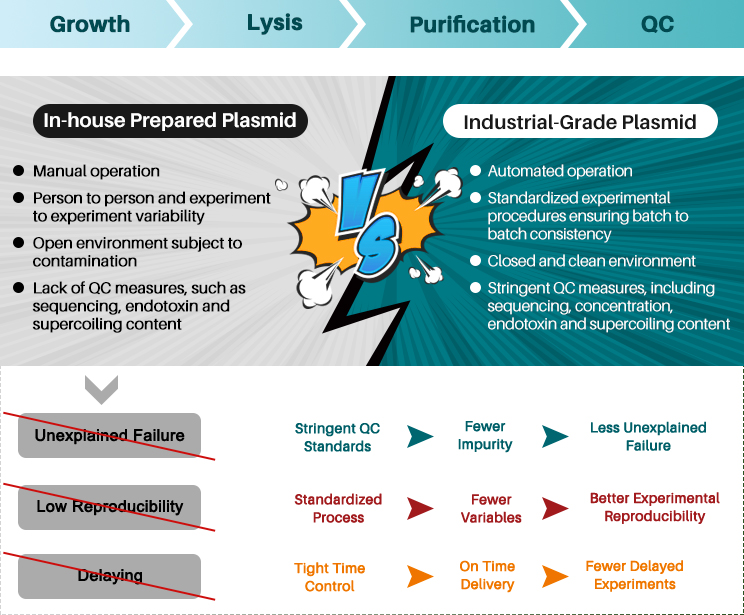 Quotations and Ordering